font-family: Arial, Helvetica, sans-serif
Bound2Burst Movies by Model: Rachael
Rachael

Airport Run - 2017 edit


Time: 30 minutes 18 seconds


This 2009 video has been re-imported from the original tapes, re-edited and exported at 1280x960 pixels and a bitrate of 6 Mbps. The result is a vastly improved picture (plus a lot bigger since the original was only 640x480 pixels), and a clearer soundtrack. We did actually drive to an airport with a very desperate Rachael and she peed her panties right in front of the main terminal. More authentic is simply could not be. We were also fortunate that day to have a friend of hers along who made a superb cab driver.
Original description: Rachael is off on vacation to Jamaica, but wouldn't you know it - the car service she has hired to run her to the airport has run into a little problem at the office and her driving is running late. Rachael, in a bit of a hurry herself, neglects to use the bathroom before going out to wait for her transport, and on the journey she starts to pay for this oversight. As her desperation to pee becomes more difficult to conceal, she finally asks the driver to stop somewhere, only to be informed that stopping would result in Rachael missing her flight. The driver keeps going and Rachael struggles to hold it, but it is clear that she is really in trouble. The driver grows concerned too and asks her not to make a mess in his car. When they finally reach the terminal, Rachael's bladder is so full that she is afraid to move. The bathrooms, now so close, take her to the brink of wetting herself, and then beyond. After she drenches the seat and her short denim skirt in pee, Rachael begins to cry in frustration at missing her flight, and the awful humiliation of what she has done.

WMV: $8.99


Rachael (with Kim)

Naked Wait 24


Time: 10 minutes 02 seconds



Rachael returns with new model Kim, and together they struggle not to wet themselves while naked. Both girls were very desperate to go at the start of filming, with Kim, the less experienced of the two, finding herself in a serious situation with her full bladder, barely able to hold on at all. She struggles so hard against the desperate but slightly more collected Rachael who taunts her for not being able to hold it. Kim pee dances and crosses her legs as she battles the urge to go, but desperation is rapidly overwhelming her. Once she loses control, the sound makes Rachael start going too.

WMV: $7.99


WMV: $10.99


Rachael (with Kim)

Both Bursting


Time: 21 minutes 01 seconds



This is a permission to pee style movie but without the time constraint. The girls are free to let each other pee a little or order the other to drink something at any time. To make the situation more intense, they both start out incredibly desperate to pee. They handle it very well, but you can see Kim is a bit out of her depth since she has not performed desperation movies before and can't gauge herself yet. Rachael believes she is handling the situation fine, but when she finally lets it all go her pee stream goes on and on, most of the time as high speed, betraying how urgently she needed to go.

WMV: $8.99


WMV: $12.99

Rachael (with Kim)

Rachael & Kim Set
Naked Wait 24
Both Bursting
Total time: 31 minutes


WMV: $14.99


Rachael

Rachael Holding It


Time: 21 minutes 25 seconds


Rachael returns to Bound2Burst after a log break, so the first thing we did was get her desperate to pee and then make her stand around in her jeans and boots, holding it! She pee dances around as she tries to keep it in, but her bladder is feeling very full and she starts to leak. Having not deliberately held it for more than a year (and bearing in mind that this was her first time that day), Rachael, now unaccustomed to waiting while on camera, loses control of her bladder in several stages. First, there is a fairly small wet patch on her jeans, then she let out a little more and makes the legs of her jeans wet, and then finally the rest comes out and she is fairly soaked. Rachael concludes by peeling off all her clothes and standing before you naked.

WMV: $7.99


WMV: $12.99


Rachael

Forced to Stand With a Full Bladder


Time: 12 minutes 03 seconds


After holding it wearing jeans, Rachael had some more to drink and embarked on a bondage video. Snippets of this video are included at the start of this movie to convey an impression of how long Rachael had to hold it before we got to the next Bound2Burst scenario. Having been secured with zip ties in the living room, then tied up with rope in the trunk of a car, Rachael is finally handcuffed in a standing position in the basement. She is dying to pee at the start, and as she talks to her captor you can hear the shake and desperation in her voice as she pleads to be allowed to use the bathroom. Naturally, our captor won't release her and Rachael is made to stand there crossing her legs, moaning and gasping as she tries to delay the moment when her muscles give way. No one can wait forever, of course, and it is not too long before a desperate Rachael, who has been holding on for the past half an hour, finally wets herself. (As a woman who enjoys bondage as a lifestyle, she has found herself in this situation for real, more than once!)

WMV: $5.99


WMV: $10.99

Rachael

Please Let Me Go


Time: 9 minutes 53 seconds


Revisiting the scenario where a girl arrives home from work dying to get to the bathroom to piss but she is intercepted by an intruder in her house. Rachael looks suitable shocked and frightened when she is confronted, and soon after she is marched outside and round the corner of the house, it soon becomes apparant that she is struggling with a full bladder. She asks if she can run to the bathroom, but the thief has not decided what to do with her yet, and makes her stand there waiting for him to make up his mind. Rachael begs him to let her go in time but he won't, forcing her to stand before him until she loses control and pee streams down her legs, making her tights glisten. Rachael concludes her performance with an embarrassed reaction as she finally gets to go back inside the house, legs soaked with pee. (This scenario was filmed with Taylor in her most recent set; it's interesting to see how different women differ in their desperation performances).

WMV: $4.99


WMV: $8.99


Rachael (with Carissa)

Holding Contest 9
Time: 59 minutes


In Holding Contest 7, Carissa and Rachael were the two finalists, so it seemed only right to bring them back together for another holding contest, just the two of them this time. On this occasion, they got to empty their bladders before starting, and both women consumed the same amount of liquid (at least until things were well advanced). Carissa becomes visibly uncomfortable in less than an hour and is clearly in trouble. Rachael is squirming too, but she seems more in control. As the minutes creep by, Carissa's discomfort becomes rapidly more obvious; her expressions speak volumes as she realizes she will not be able to hold out as long as she did in her previous contest. For some reason, the 60 fluid ounces of liquid she has consumed have passed right through her and her bladder is all but bursting. Will her competitive nature force her to keep fighting to hold it rather than let Rachael win?

WMV: $14.99


WMV: $18.99


Rachael (with Carissa)

Kept Waiting


Time: 11 minutes 39 seconds


Carissa is laying on her bed looking very sexy for her boyfriend who should be home soon. However, she badly needs to pee. She puts off going because she knows her boyfriend likes to watch her squirm as she holds it. The urgency of her situation overwhelms her before he arrives home and Carissa jumps up, intending to go to the bathroom. As she opens the door, she jumps back in alarm and almost wets herself; a woman is standing in the doorway, piece in hand. The woman, Rachael, orders Carissa to get back on the bed and stay put. Carissa obeys but she is becoming more and more frantic to empty her bursting bladder. She pleads with Rachael to let her go but time and again the woman refuses. When it becomes clear that Carissa really will wet the bed if she is kept waiting any longer, Rachael finally agrees to let her go and a mad dash for the bathroom ensues. (Rachael enjoyed torturing Carissa far too much. It clearly brings out the masochistic side of her nature :-) This was also an excuse to put Carissa in sexy lingerie and watch her squirm).

WMV: $6.99


WMV: $10.99

Rachael

She Can't Hold It Much Longer


Time: 5 minutes 02 seconds


Rachael turned up early for her session, for the same reason that models often do: She needed to pee rather badly but chose not to stop en-route and waste her desperation. This also usually leads to a situation where there is no time to film anything elaborate, so a camera was set running and recorded the last minutes of Rachael's urgent desire to pee. She paces and fidgets exactly as one would expect from a woman who has been behind the wheel of a car for several hours, the latter half of that time spent with a full and expanding bladder. She does her best to hold on for us btu she really does have to go, and after only four minutes she loses control and wets her panties. The size of the puddle shows how distended Rachael's bladder must have been; little wonder that she could not cork it up for any longer than she did.

WMV: $3.99


WMV: $5.99


Rachael

Getting a Girl Desperate to Pee


Time: 30 minutes 51 seconds


This movie is also all behind the scenes. We decided to follow the development of a model's desperation by presenting Rachael starting out by drinking a bottle of water, then launching into her first bondage movie of the day. In fact, we filmed three parts of a bondage movie which took the better part of two hours. Between each sequence, Rachael drank more water (she was actually "fed" a second bottle while still bound between parts 1 and 2 because of the problem of untying the ropes and then re-tying them in exactly the same way to preserve continuity). She spent some of her time outside in the pouring rain which naturally increased her urge to pee, although even after more than an hour Rachael was not bursting to go. This is hardly surprising given her capacity, as anyone who has seen Holding Contest 6 and 7 will know. As we started in on part 3 of the bondage movie, however, Rachael was becoming restless. Her body language here and there during the bondage film gives a hint at her developing full bladder situation. After scenario filming ended, Rachael was seriously squirming and very anxious to get out of her bondage. Alas, this part had her wrapped in rather a lot of duct tape, and getting free took quite some time. Things moved frustratingly slow for Rachael as she fought a serious urge to pee while at the same time exerting herself to gain her freedom. During the last ten minutes, she is free and pacing, gasping and drawing in sharp breaths. Now she is close to bursting and her near-loss of control comes through very well.

WMV: $9.99


WMV: $16.99


Rachael

Pacing Outside the Bathroom


Time: 14 minutes 46 seconds


Rachael is desperate to pee and stands outside the bathroom door waiting for the occupant to vacate so that she can relieve herself. Rachael plays this role as a demure young woman who would be embarrassed at making a commotion. Instead, she paces, crosses her legs, bends her knees, clenches and unclenches her hands, and runs through a range of tortured expressions as she struggles to hold herself until the toilet is free. She knocks on the door several times, politely asking how much longer the woman in there is going to be. When the woman does emerge, Rachael dashes into the bathroom, tears down her panties and just makes it. (For those who like to see a representation of the kind of behaviour a woman might exhibit in a public place when dying for relief, Rachael performs this extraordinarily well here. During a break in filming, by the way, she stood talking and wiggling her legs, and tapping her heels, as she fought to delay losing control, meaning that we took her up to her limit before she could use the bathroom. This was also Rachael's last movie of the day and she had been taking in a lot of fluid, so the urgency to go was increasing in leaps and bounds as we filmed her).

WMV: $7.99


WMV: $12.99

Rachael (with Lily, Amber, Lola & Carissa)

Holding Contest 7 (full version)


Time: 1 hour 31 minutes


Five girls join in our seventh holding content, all with drinks in their hands and all wearing jeans which will show any leaks and wet spots. They share stories about desperation events that have happened in their lives as they drink and wait for that full bladder feeling to kick in. An hour into the proceedings, they are all made to stand up. When they unbutton and unzip their jeans to ease the pressure on their abdomens, they are soon told to zip them back up again. Several of them show off tummy bulges as their bladders really start to swell. There is a lot of gasping and moaning, crossing of legs and holding of crotches. There is even a brief visit from Bruno who deliberately asks if he can use the bathroom, eliciting squeals of annoyance from the girls. He takes great delight in flushing the toilet afterwards and popping back in to see how everyone is doing as he washes his hands in the kitchen sink, subjecting the girls to the sound of running water! Things are getting serious for the ladies now and, one after another, they approach their limits. The three who yield first to their desperation have to wet their jeans and then depart, losing their shot at a $100 bonus for holding it the longest. The lure of that bonus keeps the two finalists holding on for more than 2 hours until they are both about to explode!

WMV: $15.99


WMV: $19.99


Rachael (with Lily, Amber, Lola & Carissa)

Holding Contest 7 (edited version)


Time: 38 minutes


Five girls join in our seventh holding content, all with drinks in their hands and all wearing jeans which will show any leaks and wet spots. They share stories about desperation events that have happened in their lives as they drink and wait for that full bladder feeling to kick in. An hour into the proceedings, they are all made to stand up. When they unbutton and unzip their jeans to ease the pressure on their abdomens, they are soon told to zip them back up again. Several of them show off tummy bulges as their bladders really start to swell. There is a lot of gasping and moaning, crossing of legs and holding of crotches. There is even a brief visit from Bruno who deliberately asks if he can use the bathroom, eliciting squeals of annoyance from the girls. He takes great delight in flushing the toilet afterwards and popping back in to see how everyone is doing as he washes his hands in the kitchen sink, subjecting the girls to the sound of running water! Things are getting serious for the ladies now and, one after another, they approach their limits. The three who yield first to their desperation have to wet their jeans and then depart, losing their shot at a $100 bonus for holding it the longest. The lure of that bonus keeps the two finalists holding on for more than 2 hours until they are both about to explode! (This version is edited down to 38 minutes in length but still captures all the highlights).

WMV: $16.99


Rachael (with Lily, Amber, Lola & Carissa)

Girls Night Out


Time: 15 minutes 03 seconds


It's a girls night out at the club, and after dancing and drinking, they need to use the ladies. The nightclub has only one toilet for men and one for women, breaking numerous regulations, but it's a popular place and the patrons put up with it. This particular evening, however, a girl is already in the bathroom and she has been there sometime, feeling ill. She refuses to come out, and in no time at all a long line is forming outside the door. The waiting girls fidget and complain, periodically hammering on the door in an attempt to get the occupant to come out. They soon resort to trying the door to the men's room, but they find this either occupied or locked. They have no choice but to go on waiting. A bouncer comes down the stairs to make sure everything is alright, and the waiting girls complain to him about the situation. He tries the men's room door and finds that it is indeed locked; he promises to return soon with a key so that the desperate girls can go in there instead. The minutes pass and the girl in the ladies bathroom still doesn't emerge, and the bouncer does not return with a key. The girls are approaching bursting point, and despite their best efforts to avoid humiliating themselves they start having accidents in their pretty evening dresses.

WMV: $11.99


WMV: $14.99

Rachael

Time To Go 2
Time: 23 minutes 30 seconds


Rachael has decided to try peeing into a tiny cup every five minutes, then stopping when the cup is filled. This torturous process gets worse with each time she releases a little pee and then has to clamp it off and hold it for another five minutes. There's quite a lot of spillage as Rachael's aim falters, and in the end she explodes all over the cup and floods the floor as she completely loses control. Along the way, Rachael tries to talk about a few desperation situations she has found herself in during the past year, but she is not really concentrating too hard on these stories. For some reason, she seems to be keeping a close eye on the time!

WMV: $9.99


WMV: $16.99


Rachael (with Jayne)

Holding Hostesses


Time: 20 minutes


Jayne and Rachael are both waiting to be interviewed for the job. After a brief introduction, the club manager leaves them waiting, and waiting. The girls realize that they are being tested and do their very best to hold on with as much decorum as they can manage. The manager returns to apologise for the long wait and informs them that they are actually being observed to assess how well they cope. If his partners like what they see, the girls will be given a try out that very evening. Their desperation now extreme, the girls start to squirm and pee dance as they struggle not to wet their panties, but if they are kept waiting much longer there will be several large puddles on the floor. Jayne is the first to lose control. She decides to go home, shower and change and come back to try again, leaving Rachael to battle her urge for relief. The manager returns again and tells Rachael that they are now ready to give her a try out in the nightclub proper. The trouble is, Rachael can't hold it any longer.

WMV: $5.99


WMV: $13.99


Rachael (with Jayne)

Holding Contest 6


Time: 60 minutes


Jayne returns for her second Bound2Burst holding contest. This time, she is being challenged by Rachael to see who has the greatest holding capacity, not to mention who can hold for the longest period of time. It's a warm autumn afternoon, pleasant enough for the girls to spend a little time outside in their underwear. They drink and squirm, ever mindful of the graduated measuring cylinders on the table behind them which will show us whose bladder holds the moment when the moment of release arrives for each of them. Having started out with uncomfortably full bladders, they consume water, wine and tea, and manage to hold on for approximately an hour, until they are ready to explode. They have a strong incentive to wait as long as possible - there is a big bonus for the winner.

WMV: $10.99


WMV: $18.99

Rachael

We Have To Go Back
Time: 12 minutes


It's the final movie of the day. Rachael has been holding and holding for hours for earlier movies. Her body is extremely hydrated and her bladder muscles are tired. We start off to film one last scenario on the road, but just a few minutes out, Rachael is overwhelmed by desperation and wants to turn back. The return journey is filled with panic as she tries not to wet herself on the car seat. She makes it, just, but can't get into the house in time to use the bathroom. She stands on the doorstep and pees for almost a minute, soaking her jeans and putting paid to that final scenario. Oh well, we'll have to make do with watching her "behind the scenes" extreme desperation attempt.

WMV: $5.99


WMV: $10.99


Rachael
(with Tabitha, Lola, Nyxon, Madison, Danielle, Jayne & Jynx)

Bursting in the Boardroom
Time: 22 minutes


Beverley is the CEO of a fashion magazine whose profits have been falling, and she summons her staff for s stern dressing down in the board room. Bev's rant goes on and on, and some of the ladies around the table would really like a visit to the bathroom, but given the mood the boss is in at the moment, it seems unwise to mention it just in case she decides to fire them. As time passes and her desperation grows, Lola finally asks for permission to leave for a visit to the bathroom. Beverley delivers a scathing speech about how they are all acting like children, telling them "there is no P in fashion." As Lola tries to hold it, Tabitha, seated opposite her, is also clearly in trouble. As section heads, they have to set an example and have to try to maintain control, not to mention their dignity. Both women fail miserably. Beverley is so incensed by their conduct that she dismisses them both. Seeing that others in the room are fidgeting, she tells them to take a break and visit the bathroom to "empty your tiny bladders!" while she keeps Jayne and Rachael behind to discuss their promotion to section heads. We witness Madison, Danielle, Nyxon and Jynx all using the toilet, interspersed with scenes where Bev is still keeping the other two back. Jayne's fidgeting is becoming pronounced and her desperation is so apparent that, finally, Bev adjourns the meeting.

WMV: $6.99


WMV: $12.99


Rachael
(with Tabitha, Lola, Nyxon, Madison, Danielle, Jayne & Jynx)

Line At the Ladies
Time: 14 minutes


The classic waiting in line situation. A number of ladies at an open-air event end up queuing for the use of the only portable toilet for women. The organizers have made a huge mistake because, surely everyone knows there is always a long line at the ladies, even when there is more than one toilet available. The line gets longer as the woman inside the portable toilet seems to be feeling ill. As the wait lengthens, desperation increases and tempers start to fray a little. There is a lot of discrete fidgeting as the girls gradually start to feed into the porta-potty, but the urgency of the situation grows too much for some of them and clothes start to get wet. How many of them will make it into the toilet before they wet themselves? There's only one way to find out!

WMV: $6.99


WMV: $10.99

Rachael
(with Tabitha, Lola, Nyxon, Madison, Danielle, Jayne & Jynx)

Going Up!
Time: 21 minutes


After a birthday lunch at the pub involving plenty of drinks, eight women return to work and step into an elevator with their boss. The elevator breaks down between floors, and it isn't long before the effects of all that alcohol begins to play havoc with the girls' bladders. As time passes and no help comes, the interior inside the elevator grows warm. At least, the girls start complaining about feeling hot, perhaps because of the effort required to resist the urge to pee. The situation for most of the girls soon becomes desperate, and a number of them wet themselves in front of their boss. Others continue struggling the hold on in hope that the elevator will soon start to move again and they can make a dash to the bathroom before it is too late. When the elevator does move again and the doors open, the girls all make a run for it, leaving their boss to step over puddles of pee in order to exit.

WMV: $6.99


WMV: $12.99


Rachael
(with Tabitha, Lola, Nyxon, Madison, Danielle, Jayne & Jynx)

Dicing With Desperation
Time: 21 minutes


For the final movie of the set, we sat all the models around a table in the garden, gave them a cup with two die, and a number of little paper cups to use for drinking water. The game: the first player throws the die and tries to throw the number set by the referee. If she fails, she must drink a cup of water, pass the cup and die to the next player and tell her which number she must throw. If the player throws the correct number, of throws snake eyes, she gets to leave the table and visit the bathroom; if not, she drinks a cup of water and continues playing. The game continues until the last one holding it at the table is the winner.

WMV: $6.99


WMV: $13.99


Rachael

Prelude to Ripping Off Her Clothes
Time: 9 minutes

The set up for this one was recorded, showing Rachael being secured. She's not desperate to pee yet, but by the time we get to the end (which is half an hour away) she will be. Rachael actually enjoys being restrained and was perfectly happy to stay like this as long as necessary. To download, right-click on the download button and select the appropriate choice from your browser's drop down menu.



Rachael

Ripping Off Her Clothes
Time: 24 minutes


Rachael is handcuffed and gagged, and a chain is locked around her ankles. She is also wrapped in yellow CAUTION tape. She desperately needs to pee and her exposed belly is bulging because of her very full bladder. Her captor presses on her bladder, spanks her bottom, and even tickles her. When her gag is finally removed, Rachael tells how desperate she is to use the bathroom and pleads to be freed before she has an accident in her clothes. Instead of letting her go, her captor uses a knife to cut and rip away first her top, then her skirt, tearing it in three places before finally cutting the waistband. Rachael is then left helpless and exposed in nothing but her yellow bra and panties. Her torment continues as her captor plays with her until he forces her to wet her panties. When she loses control, her pee streams down her legs and over her shoes, then carries with it some the discarded yellow tape as it flows outward from her bound feet.

WMV: $7.99


WMV: $12.99


Rachael

Airport Run
Time: 30 minutes


Rachael is off on vacation to Jamaica, but wouldn't you know it - the car service she has hired to run her to the airport has run into a little problem at the office and her driving is running late. Rachael, in a bit of a hurry herself, neglects to use the bathroom before going out to wait for her transport, and on the journey she starts to pay for this oversight. As her desperation to pee becomes more difficult to conceal, she finally asks the driver to stop somewhere, only to be informed that stopping would result in Rachael missing her flight. The driver keeps going and Rachael struggles to hold it, but it is clear that she is really in trouble. The driver grows concerned too and asks her not to make a mess in his car. When they finally reach the terminal, Rachael's bladder is so full that she is afraid to move. The bathrooms, now so close, take her to the brink of wetting herself, and then beyond. After she drenches the seat and her short denim skirt in pee, Rachael begins to cry in frustration at missing her flight, and the awful humiliation of what she has done.

WMV: $8.99


WMV: $15.99


Rachael

Desperate Prisoner
Time: 10 minutes


Mick arrives in his car, pops the trunk and reveals that he has a woman bound and gagged inside it. He lifts her out and carries her to a nearby tree where he secures her to the tree trunk. When he pulled the gag from her mouth, she tells him that she really needs to pee. Mick, naturally, torments her by pressing on her full bladder until he makes her wet her jeans.

WMV: $4.99


WMV: $8.99

Rachael

Locked Out
Time: 16 minutes


Rachael and her friend Mick are enjoying a drink sitting out on the deck, admiring the view and not saying much, not until Rachael says that she needs the bathroom but knows that Mick enjoys having her hold it, so she puts off going.Time passes and Rachael's need for relief increases, until finally she declares that she has to go inside to use the bathroom. This is when she discovers that the sneaky Mick has locked the door into the house. Rachael pleads with him to unlock it and let her go, but he says he'd like her to keep holding it and to finish her wine. Rachael complies, her desperation becoming steadily more serious until her temper starts to fray. She grows angry as she squirms outside the locked door, then sits down, only to get back up and try the door again a minute later, driven by her desperation. She even threatens to break the door down if she has to, but Mick still refuses to surrender the key. He calmly watches as the frantic Rachael starts to lose control of her bladder and wets herself in little spurts.

WMV: $6.99


WMV: $12.99


Rachael

Taken Secretary
Time: 26 minutes


Rachael had several bottles of water and a cup of tea before Mick bound her and loaded her into the back of the jeep. He then drove her around some very bumpy back roads for about 15 minutes to really give her filling bladder a good shake up. By the time he stopped, she was definitely feeling the pressure, so naturally Mick picked her up in a fireman's lift and carried her the long way round the house to the garage where her lays her on a flattened cardboard box. He leaves her there for a short while, then brings her some water on the premise that she must surely be thirsty by now. As soon as he peels the tape off her mouth, she starts to protest about her condition and really tries not avoid the water Mick forces her to drink. This performance was lovely; not overdone, and not scripted at all. The choice of words are all down to Rachael, and everything she says sounds naturally and therefore authentic. Mick gags her again and leaves her squirming while he heads off to find himself a chair. He then sits outside the garage watching her struggles and listening to her muffled pleas for help. When he peels the duct tape off her mouth again to feed her more water, her protests are even more vehement, and this time she spits the water back in his face. For revenge, Mick pours the contents of the bottle all over her blouse, her exposed stomach and the waistband of her bunched-up skirt. She squirms in agony as this induces an intense desire to pee. Just when she thinks Mick is finally going to release her and let her use the bathroom, he starts pressing hard on her full bladder. She starts to leak, holds it for a little longer, then is forced to let it all go into her panties and pantyhose. The pee makes its way across the flattened box and collects around the drain hole in the centre of the garage. After this, Mick then leaves her to lay there in her own juices for a while.

WMV: $7.99


WMV: $14.99


Rachael

Sticky Situation
Time: 15 minutes


New Bound2Burst model Rachael finds herself in a sticky situation where her soon-to-be-ex-husband applies superglue to the handle of the bathroom door, knowing that when she turns up demanding that he sign the divorce papers, she will almost certainly want to pay a visit to relieve herself, and of course she does. She gets one hand stuck, then sticks the other while trying to pull the first free. Rachael is held fast, unable to reach the toilet, unable to unzip her jeans. She has to stand and hold it while her jerk of a husband goes off to the hardware store to buy some solvent to free her hands. Naturally, he is gone for some time, during which Rachael's pee dancing growing increasingly frantic. When he returns, he reports that the local hardware store store is out of solvents and that he will have to drive to the next town to get some. He leaves his wife struggling to control her bursting bladder again, except that she is at her limit and can't hold it any longer. She drenches her jeans in piss. (The peeing sequence is film from the back and the front simultaneously, and shown in succession at the end of the clip. The light levels are not quite as high as they should have been at the climax, but the action is nonetheless clearly visible).

WMV: $6.99


WMV: $11.99

Rachael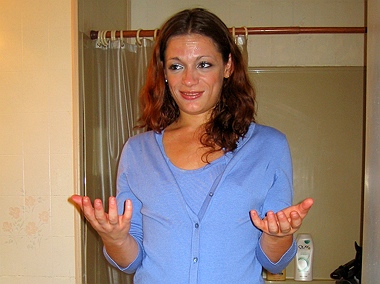 Sticky Situation - Behind the Scenes
Time: 11 minutes

This sequence shows Rachael pee dancing before we began filming Sticky Situation. We wanted her nice and desperate before getting started to ensure that those jeans would get a really good soaking, and they did. You can see how good natured the girls around about being desperate to pee while obviously it is very uncomfortable.