font-family: Arial, Helvetica, sans-serif
Bound2Burst: Help using the B2B Store
Step 1: Making a Purchase
When you find a movie you wish to purchase, click on the "Add to Cart" button.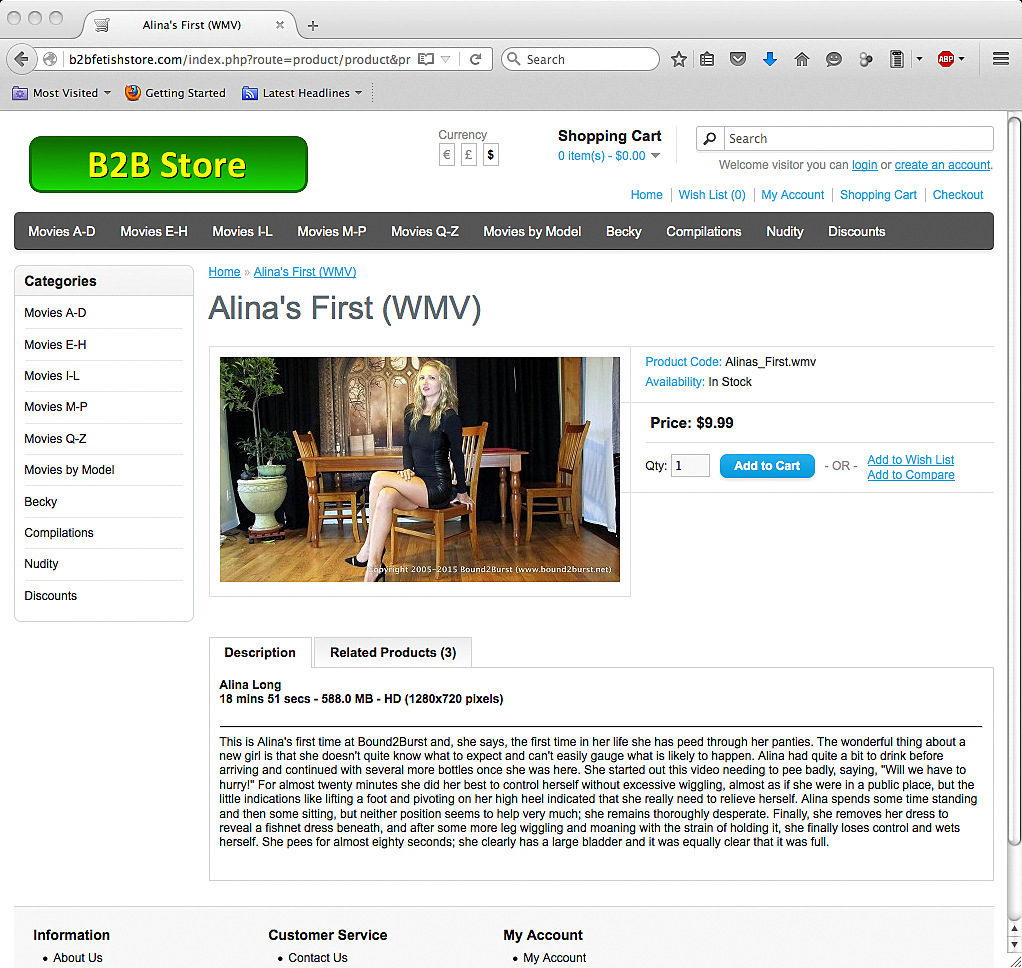 Step 2: Item in Cart
Click on the "Shopping Cart" link located top right on the page. You can now see the item you have selected. Make sure it is the movie you intended to buy and that the quanity is correct. If you need to remove an item from your cart, click on the red cross to delete it. Ignore the Gift Voucher option under "What would you like to do next?" If you are happy with the contents of your cart, click on "Checkout" (or "Continue Shopping" if you wish to purchase more titles). I'll assume that you have selected "Checkout".



Step 3: Checkout Page
You should now be on the page shown below. If you already have an account, use your e-mail address as your user ID and enter your password to continue with the purchase. If you do not yet have an account, here is where you register.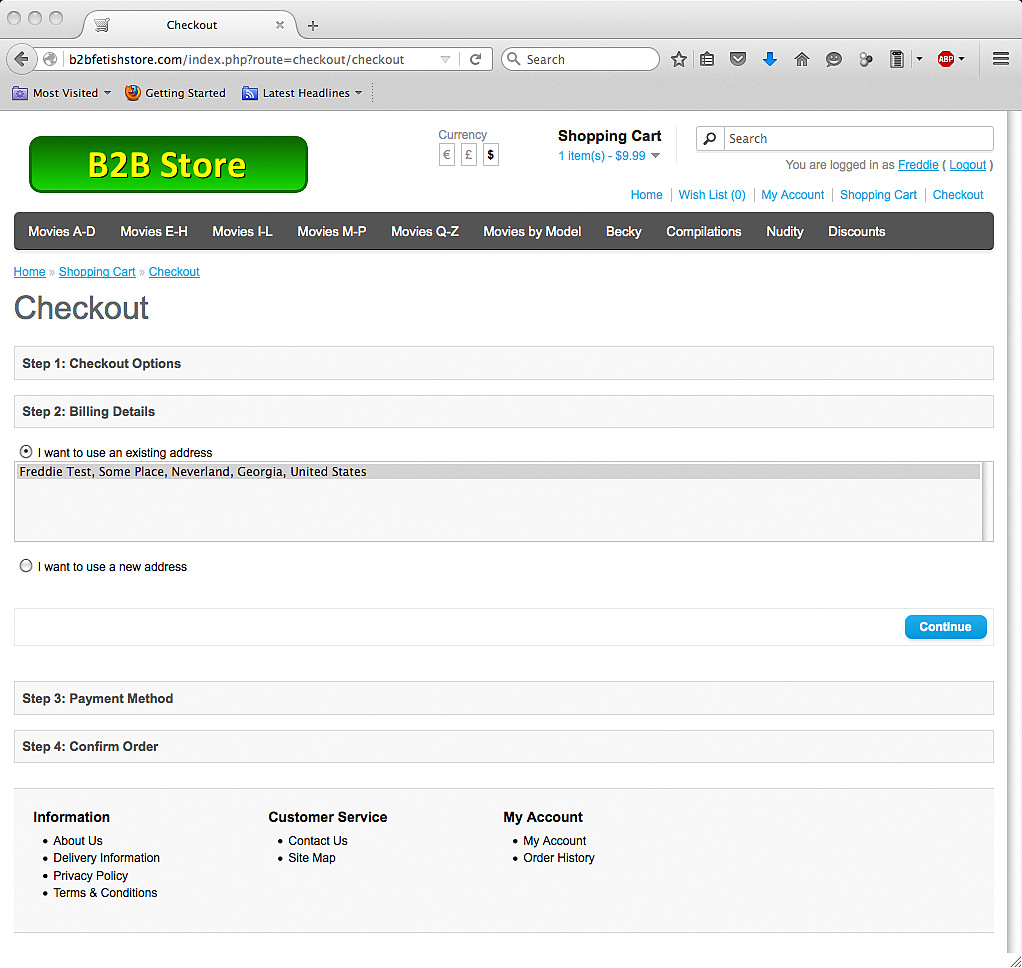 Step 4: Payment Method
There is only one purchase option - credit card (or debit card) via our payment processor Verotel. Make sure this option is checked and click "Continue". You must agree to our Terms & Conditions of Use before you can make your purchase. I recommend that you read this page since it covers some important issues, including our refund policy.




Step 5: Confirm Order
You should now be on the page shown below. This allows you to check again that you are purchasing the movie or movies you intended, that the quantities are correct (it should read "1"), and to ensure that the total being charged is what you expected. If everything is in order, click on the "Confirm Order" button, located beneath the total.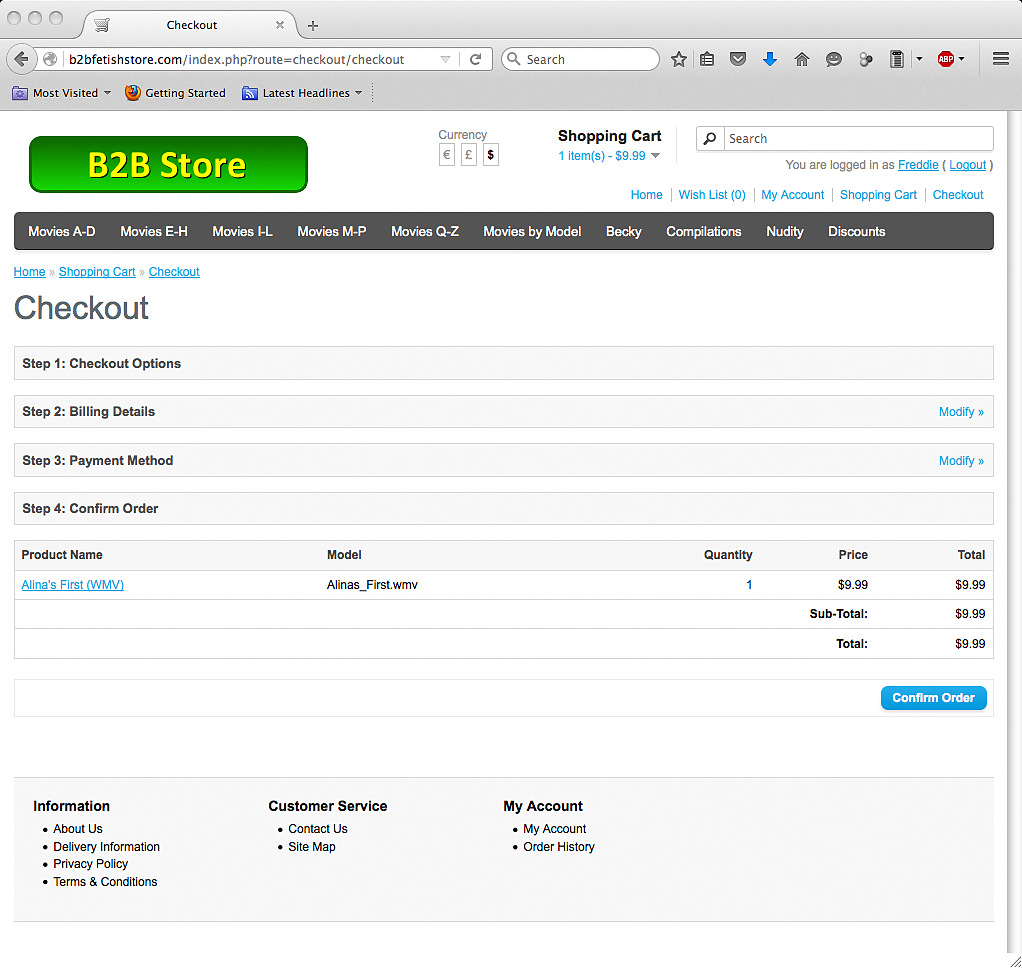 Step 6: Verotel's Payment Page
This page is Verotel's secure payment page. Enter your card details here and click on "Pay Now" at the bottom of the page.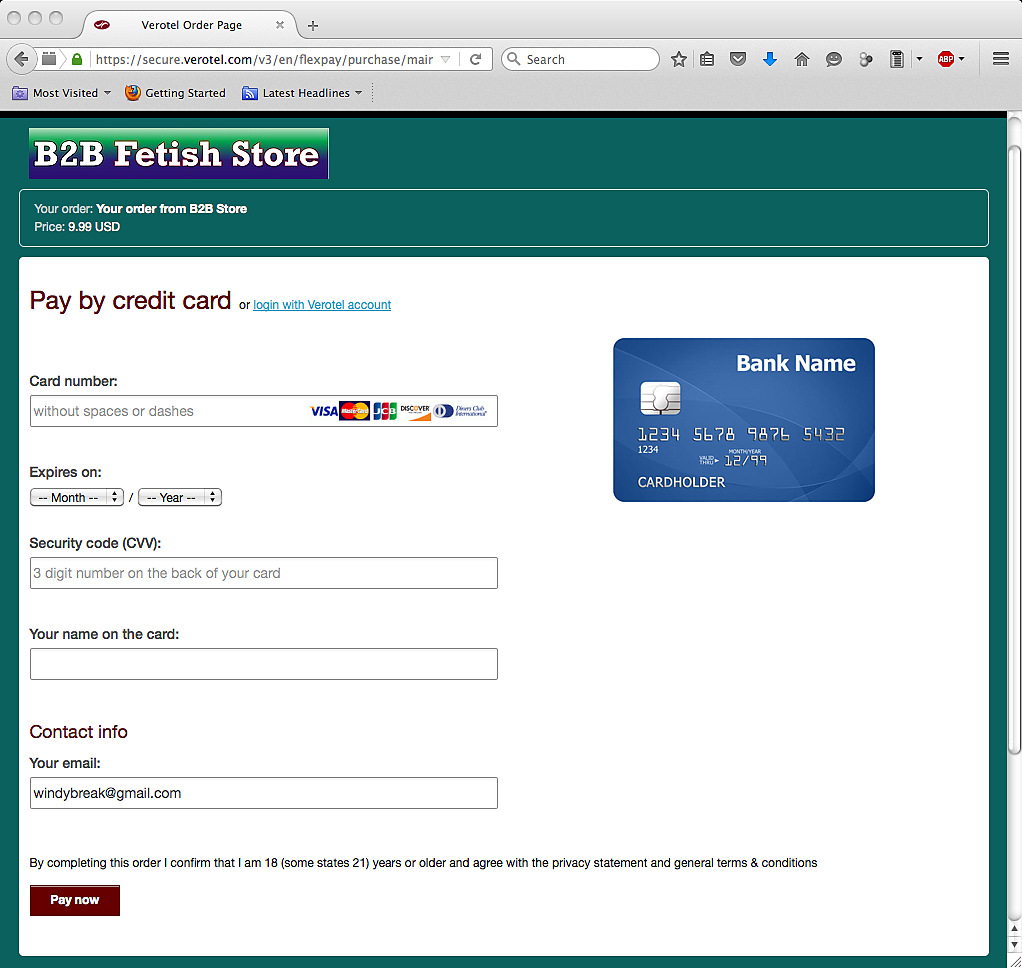 Step 7: Your Order has Been Processed
If your transaction with Verotel was successful, you will now see the page below. Note the line which reads: "If your purchase has an associated download, you can go to the account "downloads" page to view them. Click on the "downloads" link. This is small and doesn't exactly jump out at you.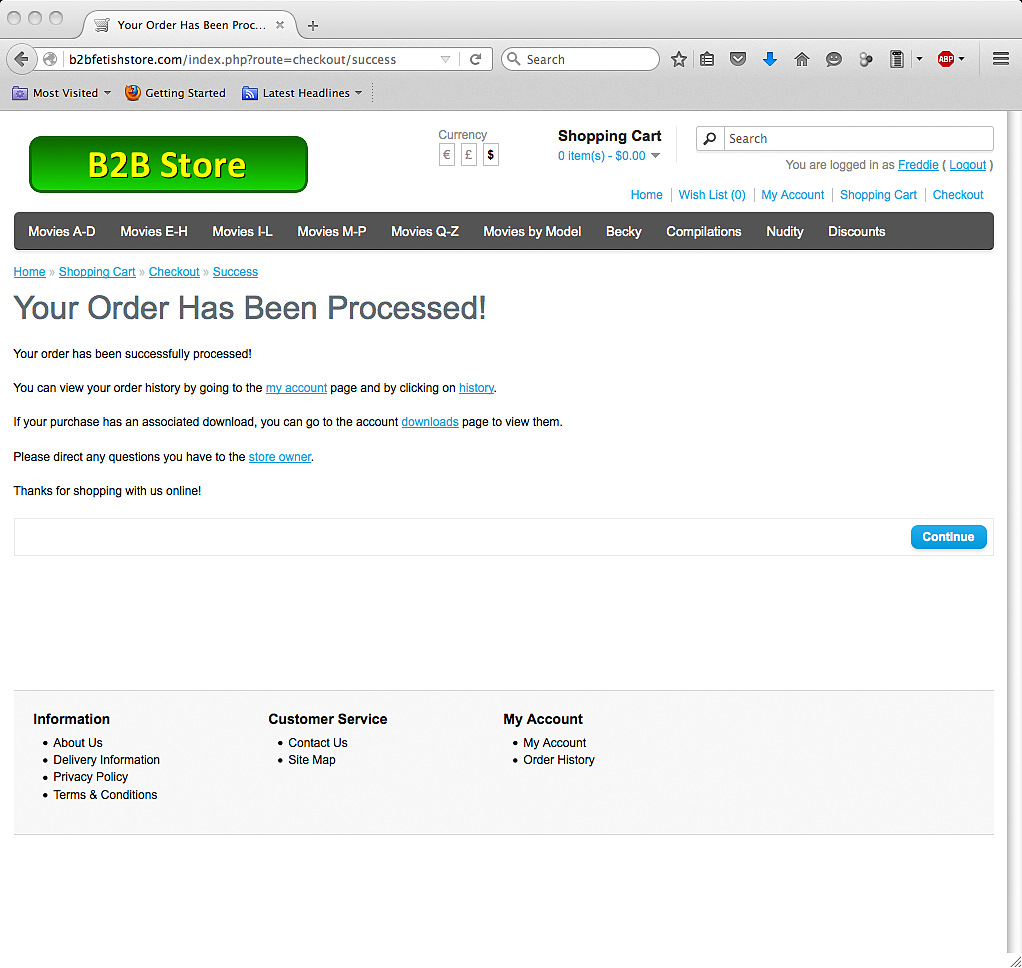 Step 8: Account Downloads
You should now see a page like the one below. You should see your purchased title. Next to the word "Remaining" you will see a number which tells you how many downloads you have remaining. The download button is quite discrete! You need only click on the little down arrow (right clicking is not necessary) to start the download going. When you do, a small window should open prompting you to confirm that you wish to download the file.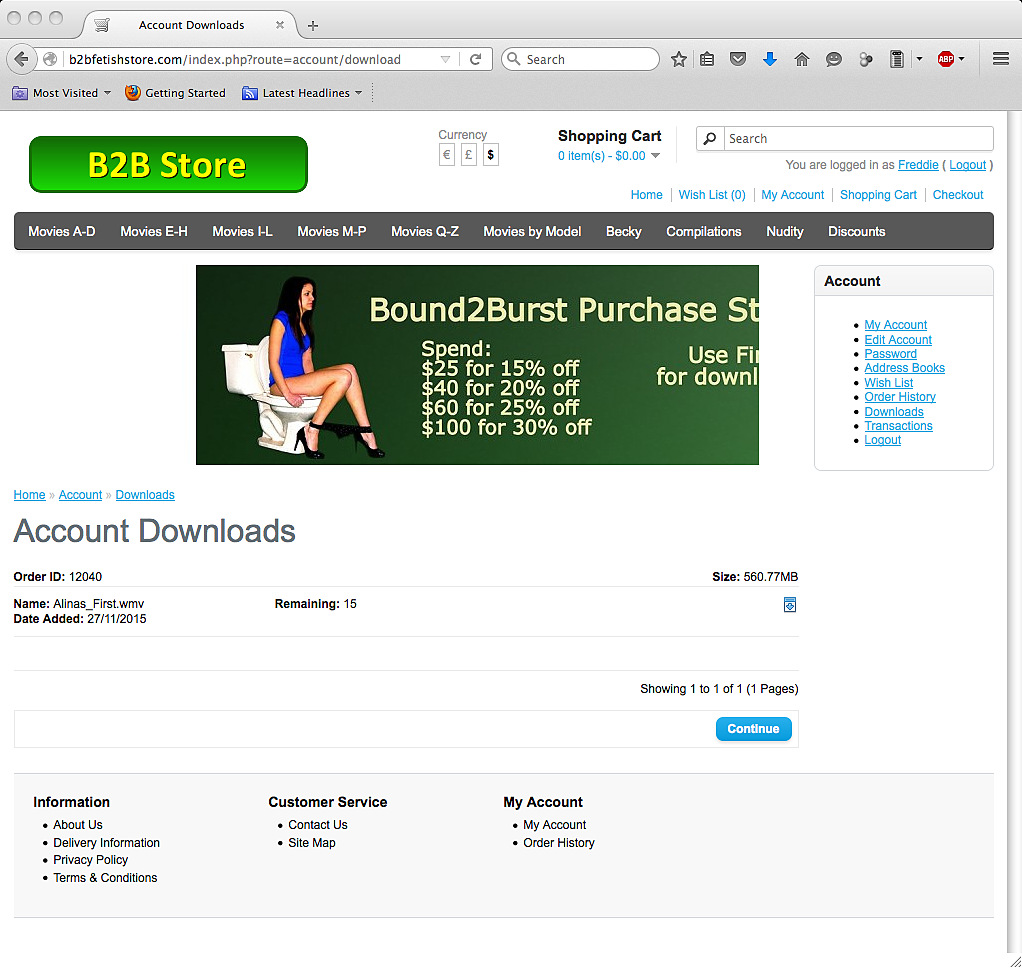 Step 9: Download Window
After you click the little down arrow to trigger the download, you should see a small window similar to the one shown (these look different according to which browser you use - this one is Firefox). After clicking on "Save File", you will be able to choose the file's destination on your computer.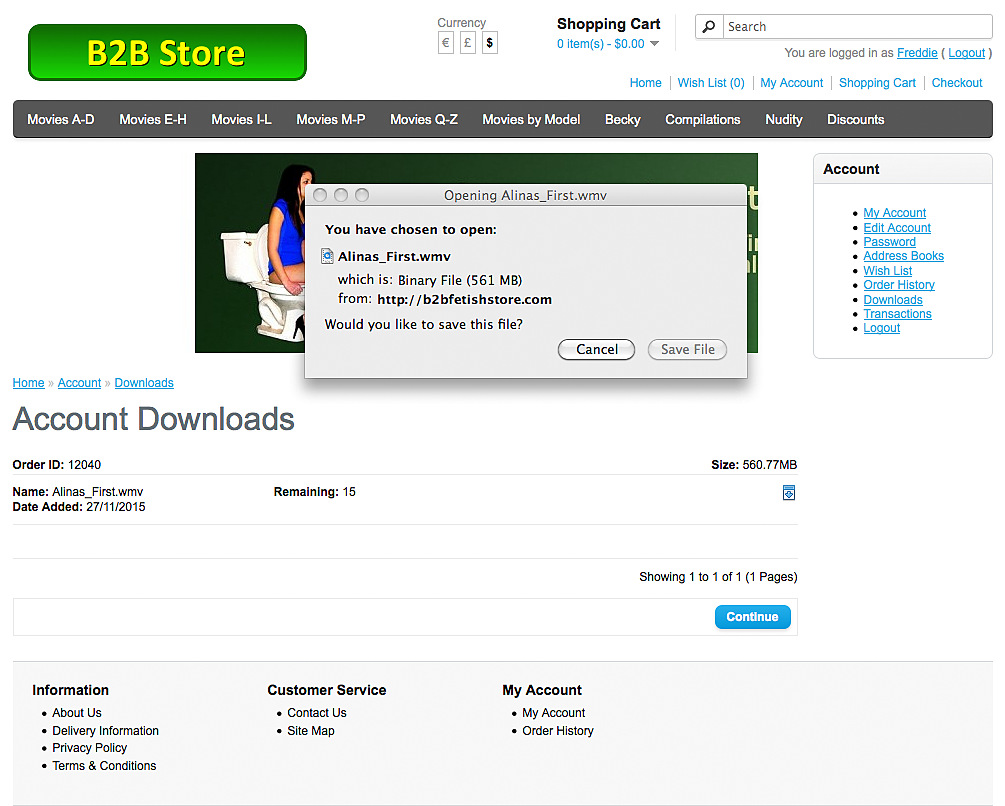 And that's it! Happy viewing.