1. The Affair (23 minutes 39 seconds)
Tabitha is an unfaithful wife who even now is on the phone to her lover, arranging a rendezvous now that hubby has departed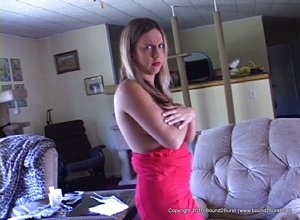 on a two-day business trip. She needs to pee, and as soon as the conversation is over she heads to the bathroom. She is just about to pull down her panties and gain relief when she hears a sound outside and realizes someone is at the door. She decides to hold it while she finds out who this is... it turns out to be a privative investigator hired by her husband to collect any evidence of infidelity on her part. At first, Tabitha tries to shrug it off, but when the PI threatens to call her husband there and then and reveal all, she invites him in and asks what she can do to make the evidence of her misdeeds just go away. The PI says he would like to see her strip off in front of him. Tabitha objects, but when he starts to punch out her husband's number on his cellphone, she capitulates. However, she explains that she needs to use the bathroom first. The PI tells her to hold it and get on with taking off her clothes. Tabitha does so reluctantly, constantly trying to change the man's mind, but he is adamant. When she is naked and squirming to keep from wetting herself on the chair, he agrees to let her use the bathroom... provided he can come along and watch.
Additional comments: This movie contains a significant amount of nudity.
Download movie for $11.95


(Instant Access)
2. The Pleasure Of Holding (14 minutes 24 seconds)
Arriving home from a horrible day at work, tied and with a full bladder from being stuck in traffic, Tabitha sits down and tries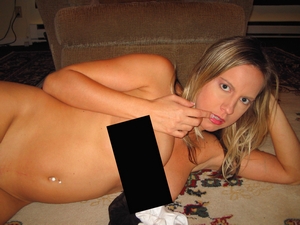 to unwind. She enjoys the feeling of a full bladder because it makes her feel horny. She tells you all about it as, over some ten minutes, she slowly performs a strip tease and then rubs herself until she has an orgasm. This only makes her want to pee more, so she runs to get a jug and then stands there, legs apart, peeing into it and savouring the relief of emptying her bladder. Finished, she lays on the floor to relax.
Additional comments: This movie contains nudity. In terms of the orgasm, this is a one-off, performed solely at the behest of a long-time friend in England (another Dave, which is probably why I agreed to it!). However, I cannot turn Bound2Burst into any more of an overtly sexual experience than it already is (no, really), so don't ask. Yes, that does mean you too, even if your name is also Dave).
Download movie for $10.95


(Instant Access)
3. Roadside Emergency (6 minutes 32 seconds)
Tabitha is driving home with a bursting bladder and is frantically gasping, moaning and holding her crotch, hoping to get to the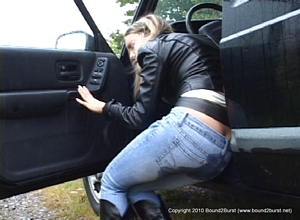 bathroom before she wets her jeans. Her desperate is so serious, however, that she has no choice but to stop short of home with the intention of getting out of the vehicle, pulling down her jeans and squatting on the verge. Her plan goes horribly wrong when the catch on the seatbelt won't release, and she is stuck sitting on the driver's seat on the very verge of wetting herself. After struggling for about a minute to release the buckle, she finally gives up and hangs her bottom out of the vehicle and lets go a torrent of pee through her jeans. Her relief is palpable.
Additional comments: A re-working of the vlassic stuck seatbelt scenario, performed ˆ la mode de Tabitha. She does actually manage to slither out of the belt after it is too late. Phew! She peed a lot in this one too so it is, as they say, short but sweet.
Download for $3.95


(Instant Access)
4. Desperation Difficulties (15 minutes 40 seconds)
It's another one of those bondage movies where the model ends up feeling the urge to pee while in a compromising position.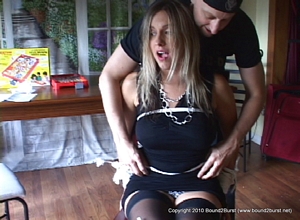 Here, Tabitha is firmly bound to a chair, the filming is ostensibly over and she would like to make a visit to the bathroom. She apparently forgot where she was for a moment! The two devlish henchmen who put her in this situation seem reluctant to grant her freedom, and one of them even goes to the lengths of dragging her chair to a safe area in case she loses control of her bladder while still tied up. Tabitha complains as the critical moment approaches, then, oops! She wets her panties (which are bikini bottoms that contain most of the damage, at least until she bounces up and down and squashes it out onto the chair and floor). Since there is no urgency to release her now, the lads decide to head out for a beer and leave Tabitha still tied up and sitting in her soaking-wet panties.
Additional comments: Naturally, Tabitha consented to this appalling treatment. Besides, we were only gone for a couple of hours.
Purchase from Files Forever
$7.95


(Instant Access)
5. Farewell, Old Friend (1 minute 17 seconds)
In this short, free download, Tabitha bids farewell to the toilet she has seen only occasionally during the three
years she has been visiting us. It feels like an old friend who has offered relief and succor to so many, but now it's time is done. It has been replaced by a newer, bigger model which will receiving the bottoms of all the same models and others yet to be. Let's have a minute's silence is respect for our dear, departed friend. Unfortunately, Tabitha herself is incapable of a silence lasting a whole minute :-)
To play this clip, click on the image to the right. To download it, click on the image and select from the dropdown menu "Save File As" or Save Target As" or "Save Link As", or similar phrase (the exact wording depends on your choice of browser).