Added: February 11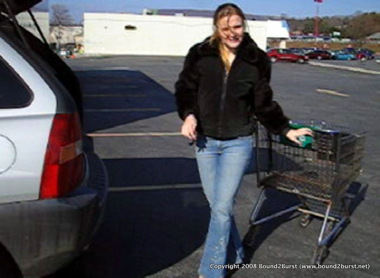 OUT & ABOUT
61 minutes

Danielle spends an afternoon out and about while coping with an uncomfortably-full bladder. She pumps fuel, visits a supermarket and a dollar store, and is kept waiting for quite some time. Danielle spends 6 minutes relating a real-life desperation story in some detail. Later, she recounts a much shorter tale about how she managed to disguise a wetting accident in a very public place. Danielle stops to purchase some food and a 2-pint container of coke, all of which she drank. Half an hour later she began to feel uncomfortable. When she gets fuel for the vehicle, she hops around as she waits for the pump to dispense fuel, and while waiting for a credit card receipt. Next, we visit a supermarket where she was filmed in the vegetable section and at the checkout. In urgent need of relief now, Danielle begins the drive home, doubtful that she can make it. She tries pulling onto a side road, but there are houses and even a restaurant. She stops in a narrow cutting opposite the restaurant and hops out, partially peeing her jeans. She managed to hold the rest until we get home where she finishes wetting herself while unloading the shopping.
WMV
$13.99

Added: February 11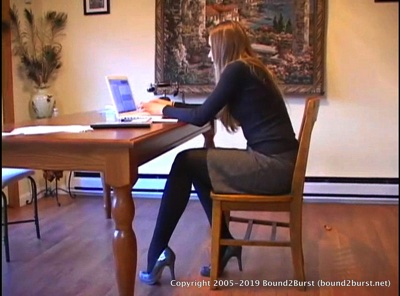 THE INCOMPETENT SECRETARY
29 minutes

Danielle plays the role of a secretary who is very bad at her job. Her boss is tired of her incompetence, so he forces her to retype letters where she has made serious mistakes, refusing to let her use the lavatory until she has finished. Struggling with a full bladder, Danielle starts to wet herself three times during this movie, each time holding it back after gaining slight relief until, finally, she can't wait any longer. Danielle exercising her acting skills in this one, looking very upset as she starts to wet herself. If I didn't know better, I'd say she was actually crying. At the end, however, she tells us that she was only acting. All the same, she informed me (with a broad grin), she wouldn't really want to work for a boss who was so mean as to keep her at her desk when she was bursting for a pee. Since she already has one boss who makes her wait, why not another? (Behind the Scenes: 3 minutes).
WMV
$12.99

Added: February 11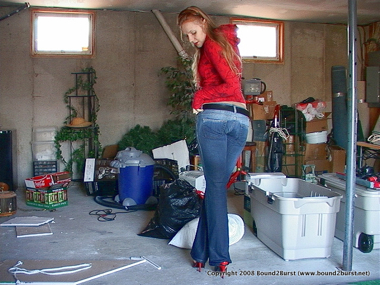 I DON'T WANT TO WET MY NEW JEANS
26 minutes

While third in the list, this was actually the first movie of the day. Danielle arrived for her shoot with a full bladder, assuming she would be doing a 20-30 film. She learned instead that the first movie of the day was to be a long one taking several hours to film. Pleading that she couldn't hold on for that long (she certainly did look very desperate), we decided rather than waste the opportunity, that she should be tied up in the basement until she wet her jeans. This led to a discussion about the jeans and shoes being both new and expensive, and Danielle wanted to know if she could change first. Since the jeans looked good on her, we persuaded her to go down to the basement dressed just as she was. Once she was secured to a pole, she was told that, if she could wait for 20 minutes, she would be freed and allowed to use the toilet so that she would not have to wet her new jeans and shoes. She began wetting her jeans several times during this period but managed to stem the flow. In the end, alas, she lost control with just a few more minutes to wait. What a shame!
WMV
$16.99