1. THREE PAIRS OF WET JEANS (14 minutes)
Imagine having three women turn up on your doorsteps, all desperate to pee, and you keep them talking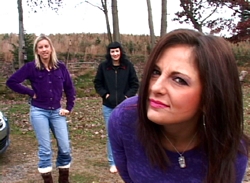 outside until they are forced to wet their jeans. That was the simple premise of this unedited movie. We watch the girls squirm as they try to hold on, but it's a foregone conclusion that they won't be allowed into the house in time to avoid wetting themselves.
This one was staged. Tabitha was late arriving, and both Lola and Nyxon really needed to do something about their bladders before we started work on one of the customs, owing to the amount of time those projects would take. Tabitha called to say she was coming in pretty full, so we sent Lola and Nyxon out to meet her, then had them drive in together. It worked fairly well, but none of them produced a big flood - it's the first pee of the day on camera, and those are seldom serious gushers, so don't buy the movie expecting huge floods and then end up disappointed.
On the plus side, it is not that often that we have three models pee their jeans in the space of ten minutes!
Download: $7.95


(Instant access)
2. WONDER WETTER & SUPERGUSH (26 minutes)
Wonder Wetter and Supergush have not been busy of late, and Supergush is extremely bored. Wonder Wetter reprimands her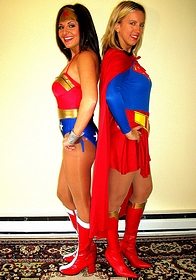 and ends up snared by her own lasso of truth just before she can make a dash to the bathroom. Supergush makes Wonder Wetter stand with her legs apart until she is forced to pee herself. At this inopportune moment, a caller reports that Veronica Cale has been spotted entering a nearby warehouse. Supergush wants to rush off, but Wonder Wetter has to change her panties and empty the pee out her boots. (This is all done on camera).
In the warehouse, the super heroines overpower Veronica and handcuff her to a table, even though the woman is desperate to pee. It is not long before Veronica wets herself. She manages to wriggle free of one of the bracelets, and is ready when Wonder Wetter and Supergush return for her. She immobilizes the super heroines with a suppression field, and makes them stand there until they both pee their costumes. She threatens to call the press to take photos of the pair standing in their own puddles! How can the duo holds their heads up after such humiliation?
This custom movie is probably the most difficult thing we have ever tried to film. The girls, who naturally needed to pee, could not remember their lines and had to be allowed to ad lib their way through the loose storyline. This is a highly simplified version of the custom script, but even this took a large part of the day to do. The movie contains four wetting accidents, two by Lola, and one each by Tabitha and Nyxon. Lola gets naked briefly as she is changing her panties in the opening scene.
Download: $9.95


(Instant access)
3. URGENT CALL (20 minutes)
Lola and Tabitha are out shopping for party dresses when an urgent call comes through from Lola's husband. His car has broken down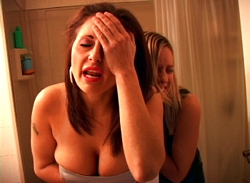 and he needs her to come home at once so that he can borrow her car to get to work, before he is fired for repeatedly showing up late. Lola persuades Tabitha to leave at once, quickly paying for the dresses, but not leaving time to either change back into their casual clothes or even buy shoes to go with the dresses. They have to run from the store in their sneakers and boots. The down side of all this rushing is that they both need to pee, but now there will have to wait until they get home and hand over the car keys to Lola's husband.
This accomplished, the two women rush into the house, peels off their boots and make a dash for the bathroom. Their trouble are still not over, however; the skirt of Lola's dress is too tight to lift, and she is having a hard time unzipping it. Tabitha tries to help, but then Lola accidentally head butts her and leaves Tabitha clutching her nose. Tabitha loses control and wets herself, leaving Lola making a last, frantic bid to get out of her new dress before it is too late. But it's no good - she can't hold it any longer and is forced to let go, turning the bathroom floor into a small lake.
Both in a mess now, the two women finally manage to undress themselves and climb into the shower together top clean themselves up. Arriving home, Lola finds the skirt of the dress is too tight to pee and allow her to use the toilet. Tabitha, also bursting to pee, is trying to help her remove the dress, but in their panic the zipper jams. Both women wet their dresses, then undress and shower together.
This custom was made by question of Olivier in France who was the second highest contributor to the Waiting in Line Fund. He loves movies that end with a showering scene (he commissioned Christina's Long Walk Home movie back in 2007). Since Tabitha was going to be around for the super heroine movie, we asked her if she would mind showering with Lola. She agreed, and the entire shower scene, lasting approximately 5 minutes, is filmed in a single take.
Download: $9.95


(Instant access)