Bound2Burst Just Naked Collection
(Remember to refresh your web browser to view updates)


Cali & Tilly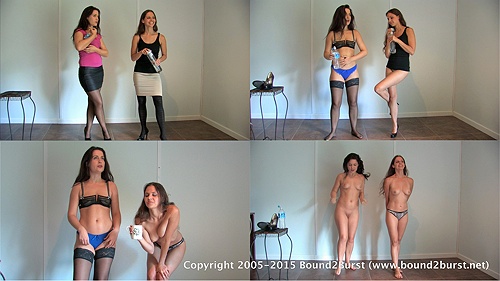 May I Pee? (30m 31s)

Cali and Tilly both need to pee, but it's not simply a case of run to the bathroom and go. Each girl needs permission from the other to pee, and naturally permission is withheld over and over again. What the other girl can do is instruct her friend to drink more liquid and hold her pee, and if she reaches a point where she really can't drink anything more, then she can start peeling off articles of clothing instead. So it is that, over time, the girls become more scantily clothed until they have virtually nothing to remove. Now what do they do? A peeing accident or two may be imminent!
WMV: $10.99
WMV: $14.99
Becky, Cadence, Tilly, Niki, Sinn Sage, Autumn, Scarlett, Jade & Jessica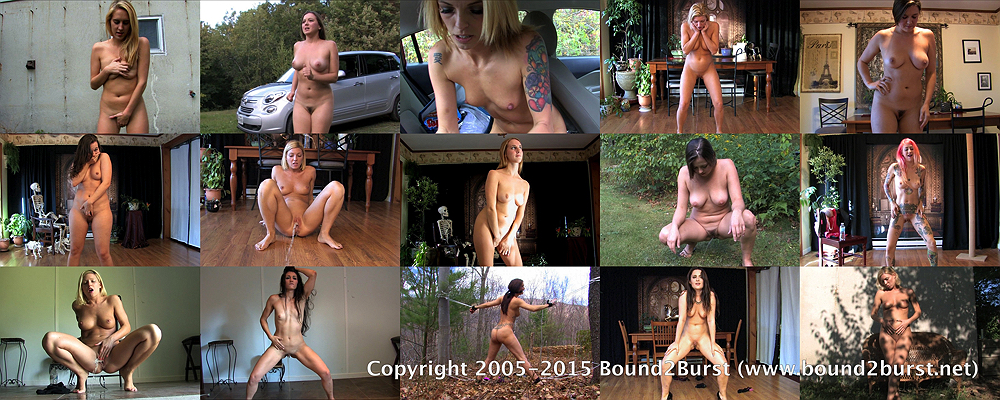 Naked Desperation 7 (72 mins)
Our seventh collection of scenes showing naked girls desperate to pee and releasing the stream on camera. The excerpts are typically 5 minutes long and derive from the following movies:
Niki: Erotic Desperation
Becky: Naked Pee
Tilly: Undress For a Massive Piss
Cadence: Strip & Pee
Niki: Niki's Naked Wait
Jessica: Stalker
Sinn Sage: Sinn's Naked Wait
Scarlett: Stripping & Peeing
Autumn: Grabbed While Desperate
Niki: Nude Niki
Cadence: Cadence Disrobes to Pee
Becky: Naked On Arrival
Jade: Jade's Naked Desperation
Niki: Desperate in Dappled Sunlight
WMV: $18.99
WMV: $24.99
Naked Desperation 6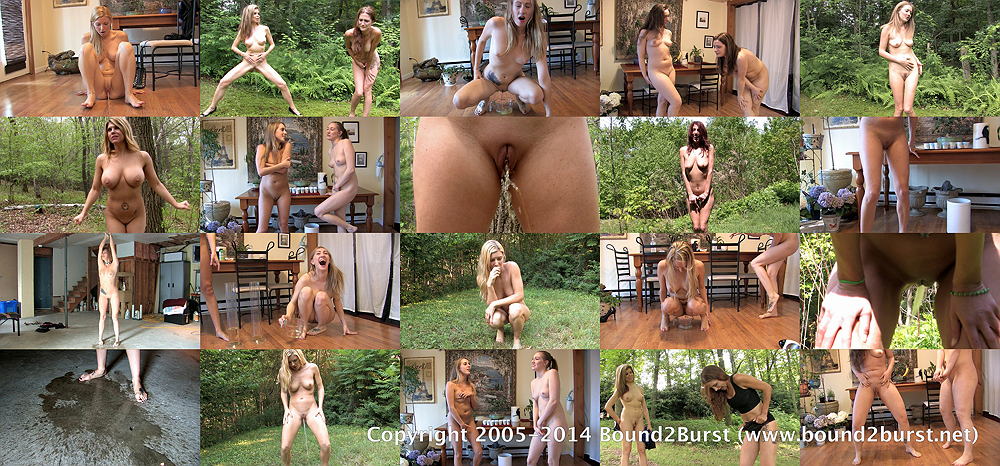 10 models - 15 naked wettings - 63 minutes
Niki: Disrobing While Desperate
Candle & Autumn: Outdoor Desperation
Laci: Laci Strips & Pees in a Jug
Star: Do You Mind If I Wet Myself?
Rachael & Kim: Naked Wait 24
Carissa: Naked Wait 25
Cadence & Laci: Naked Wait 23
Niki: Niki's Naked Desperation
Lavender: Naked Wait 26
Cadence & Laci: Strip Or Drink 2
Laci: Cutting Off Her Clothes
WMV: $18.99
WMV: $24.99
Naked Desperation 5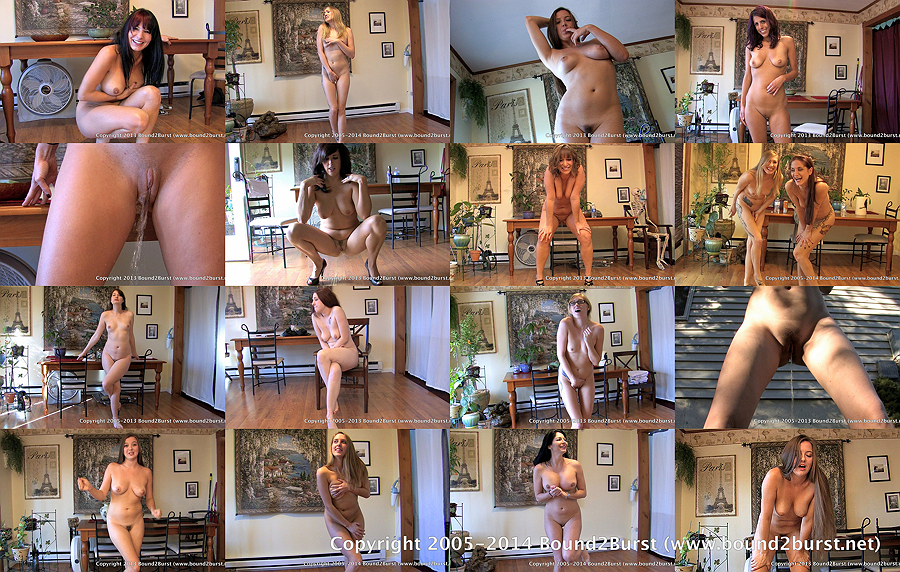 10 models - 17 naked wettings - 75 minutes
Becky: Naked Wait 15
Taylor: Bare & Bursting
Lavender: Naked Wait 16
Laci: Bursting Upon Arrival
Lily: Naked Wait 17
Paige Gets Naked While She Waits
Tara: Naked Wait 18
Becky: Strip to Make Sure
Taylor: No Friend Of Mine
Autumn & Laci: Naked Wait 19
Dixie: Nude & Desperate
Laci: Naked Wait 20
Paige: Naked Pee Outside
Cadence: Naked Wait 21
Becky Humiliates You
Taylor: Naked Wait 22
WMV: $19.99
WMV: $25.99
Naked Desperation 4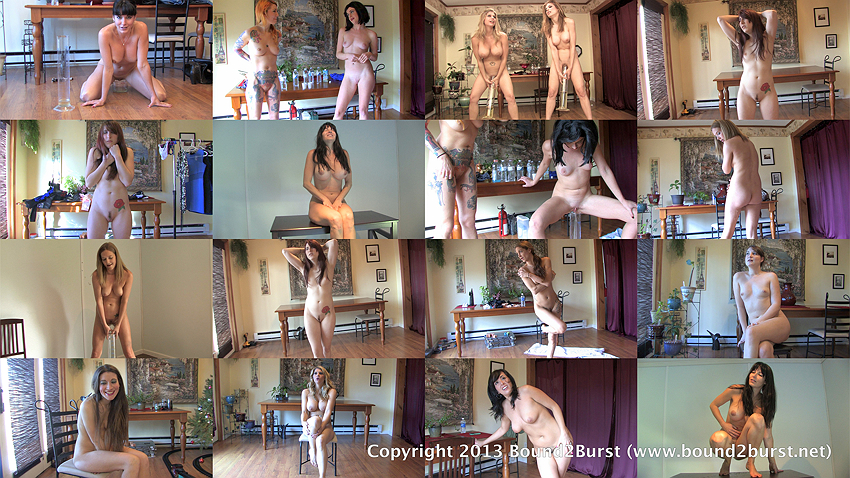 Naked Desperation 4 (74 minutes)
11 models - 16 naked wettings - 74 minutes
Our fourth collection of scenes where models are desperate to pee while naked. Scenes are typically 5-6 minutes in length, showing the last minutes of desperation followed by the act of peeing. The excerpts in this compilation derive from the following movies:
WMV: $19.99
QUICKTIME: $19.99
WMV: $25.99
QUICKTIME: $25.99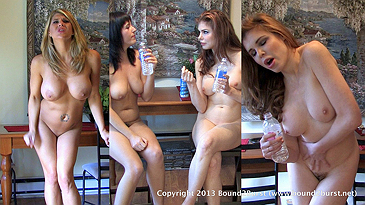 Naked Wait 1, 2 & 3
(104 minutes)
$29.99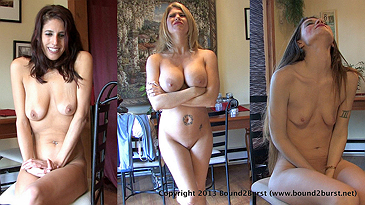 Naked Wait 4, 5 & 6
(68 minutes)
$24.99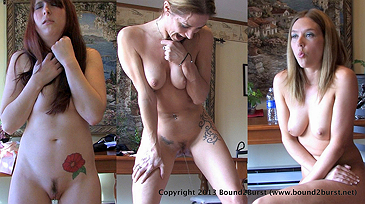 Naked Wait 7, 8 & 9
(50 minutes)
$22.99

Naked Wait 10, 11 & 12
(67 minutes)
$24.99

Naked Wait 1-12
(290 minutes)
$84.99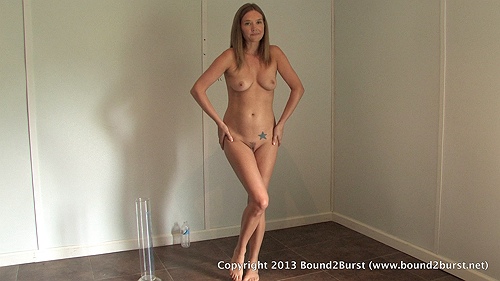 Naked Wait 14 (21m 29s)
Star returns for another naked wait, this time peeing into a cylinder at the end to see how much her bladder was holding. She talks to the viewer during the video, talking about her abdomen ans several desperate situations she has found herself in, all while squirming to hold her pee.
WMV: $9.99
QUICKTIME: $9.99
WMV: $13.99
QUICKTIME: $13.99

Naked Wait 13 (10m 37s)



Paige arrived absolutely bursting to pee, having lost her way on her journey to us, and she wanted to do something right away before she lost control. She stripped off her clothes and stood holding her pee completely naked. She talks about a serious desperation event which happened to her recently, her voice shaking as she fights the urge to urinate. Paige tries sitting and crossing her legs tightly but this does not seem to help. She gets back up and squirms frantically until pee just erupts out of her in a powerful and prolonged stream. The tension drains out of her as she gains relief at last.

WMV: $7.99


QUICKTIME: $7.99


WMV: $10.99


QUICKTIME: $10.99



Dixie: Naked Wait 12 (24m 27s)



Dixie tries to hold on to a full bladder while completely naked but she is finding it extremely difficult. She fights hard for about five minutes but then loses control. Pee keeps gushes out of her in sudden bursts. Later, when Dixie is desperate to pee again, we resume filming and the has to struggle very hard indeed to wait any length of time. She doesn't know why she can't control herself and is literally shaking with the effort of holding it. She begins to leak again and the occasional streak of pee snakes down her thigh and calf. She looks frantic as she fights the waves of urgency washing over her with increasing frequency until she explodes again, jetting pee onto the floor with a great deal of force.

WMV: $9.99


QUICKTIME: $9.99


WMV: $13.99


QUICKTIME: $13.99


Carissa: Naked Wait 11 (18m 27s)



Carissa returns for her third Naked Wait video. As always, she allows herself to become extremely desperate to pee so that her pee dancing is intense as she struggles to hold it until she is ready to explode. When she finally has to release, pee shoots out of her in a powerful jet which thunders onto the floor amid the sounds of Carissa's gasps of relief.

WMV: $8.99


QUICKTIME: $8.99


WMV: $13.99


QUICKTIME: $13.99



Taylor: Naked Wait 10 (24m 39s)



Taylor appears naked in a Bound2Burst video for the first time. She starts out fully clothed and needing to pee badly, then performs a strip tease until she is wearing only a thong. She keeps the thong on for a while, delaying the moment of complete revelation, but about half way through the video it comes off. When Taylor finally tries to release the contents of her bulging bladder (she shows off the bulge and it is big) she is unable to go. She tries various things - she attempts to pee into a glass cylinder and a jug, then sits on the toilet and presses on her abdomen, but she seems completely locked up. Finally, she is able to squeeze out some pee into the jug. At the end, Taylor steps into the shower and turns on the water, and finally she is able to relieve herself properly. She concludes by soaping her body and washing the pee off her legs.

WMV: $9.99


QUICKTIME: $9.99


WMV: $13.99


QUICKTIME: $13.99


Star: Naked Wait 9 (17m 48s)


Star stands naked and desperate to pee, her bladder bulging where she has been holding it for a long time. She starts out commenting on how badly she needs to pee, but as her desperation grows more intense she falls quiet, concentrating on holding it in as long as she can. Her pained expressions make it clear that she is dying to relieve herself but she fights it as long as she can. Finally, she can wait no longer and pee streaks down her thigh onto the floor.

WMV: $8.99


QUICKTIME: $8.99


WMV: $14.99


QUICKTIME: $14.99



Gianna's Second Naked Wait (3m 58s)

Gianna went into this one absolutely bursting and could barely hold her pee at all. She started out wearing panties but quickly removed them, an act which didn't help her psychologically to wait. She shakes and gasps as she struggles not to release but she really is about to explode. In just two minutes she starts to go.

WMV: $4.99





QUICKTIME: $4.99




NAKED DESPERATION 3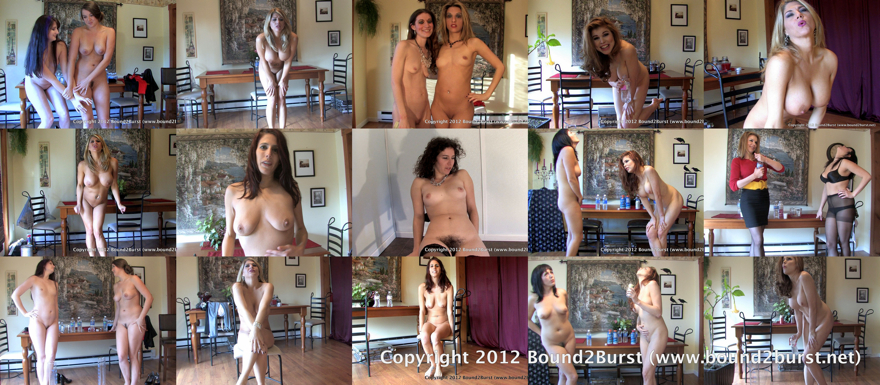 9 models - 12 naked wettings - 87 minutes
WMV: $19.99
QUICKTIME: $19.99
WMV: $24.99
QUICKTIME: $24.99
NAKED DESPERATION 2
Carissa, Autumn, Lavender, Lily, Sienna, Lola & Tabitha
Total time: 57 minutes

WMV: $14.99


WMV: $18.99


NAKED DESPERATION 1
Lily, Autumn, Lavender, Sienna, Lola & Tabitha
Total time: 66 minutes

WMV: $18.99