1. HOLDING HOSTESSES (20 minutes)
Imagine a nightclub where the hostesses serve drinks and attend to your various needs while holding a full bladder. This is the premise of this movie.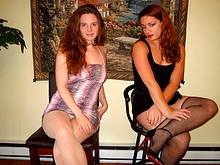 Jayne and Rachael are both waiting to be interviewed for the job. After a brief introduction, the club manager leaves them waiting, and waiting. The girls realize that they are being tested and do their very best to hold on with as much decorum as they can manage. The manager returns to apologise for the long wait and informs them that they are actually being observed to assess how well they cope. If his partners like what they see, the girls will be given a try out that very evening.
Their desperation now extreme, the girls start to squirm and pee dance as they struggle not to wet their panties, but if they are kept waiting much longer there will be several large puddles on the floor. Jayne is the first to lose control. She decides to go home, shower and change and come back to try again, leaving Rachael to battle her urge for relief. The manager returns again and tells Rachael that they are now ready to give her a try out in the nightclub proper. The trouble is, Rachael can't hold it any longer.
This was the first movie of the day. Jayne and Rachael were asked to bring along some clothes that they might wear to a fetish nightclub, so the choice of garments is entirely theirs. They were both very desperate to pee throughout filming, but when it came to the moment of flood, they each exceeded our expectations. These girls are real professionals! I'd certainly hire them in my "All You Can Hold" nightclub.

Download for $8.95


(Instant access)
2. HOLDING CONTEST 6 (60 minutes)
Jayne returns for her second Bound2Burst holding contest. This time, she is being challenged by Rachael to see who has the greatest holding capacity, not to mention who can hold for the longest period of time.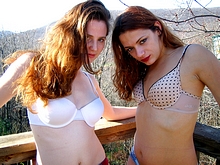 It's a warm autumn afternoon, pleasant enough for the girls to spend a little time outside in their underwear. They drink and squirm, ever mindful of the graduated measuring cylinders on the table behind them which will show us whose bladder holds the moment when the moment of release arrives for each of them. Having started out with uncomfortably full bladders, they consume water, wine and tea, and manage to hold on for approximately an hour, until they are ready to explode. They have a strong incentive to wait as long as possible - there is a big bonus for the winner.
Holding Contest 6 was commissioned as a custom movie, so the choices made throughout were dictated by the customer, including the limited clothing because he wanted to see their bulges growing. In fact, the girls use a tape measure to check their waist size before and after they empty their bladders.
The customer particularly wanted an accurate measure of how much the girls peed because he had devised a scale of financial reward strictly linked to the quantities they released. In the spirit of these holding contests, I'm not going to tell you who won, but I can tell you that one of these girls walked away with a nice big bonus that day. The teaser has been designed to conceal the identity of the winner, so don't make too assumptions based on what you see there :-)

60-minute version: $14.95


(Instant access)
30-minute version: $10.95


(Instant access)
3. WAITING HER TURN (13 minutes)
Jayne is waiting outside the bathroom at a party when someone comes in trying to get away from the heat and the noise.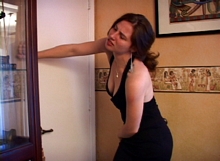 He stays only for a few minutes, then leaves Jayne alone to wait for the bathroom to be vacated. Unfortunately, the woman in there is taking an incredibly long time, and Jayne is absolutely bursting to pee. She keeps knocking on the door and asking the woman to hurry up, and while the woman replies that she is hurrying, the waiting time just gets longer and longer. The woman emerges just in time, allowing Jayne to dash into the toilet, tear down her tights and panties and release a torrent of pee into the pan. Phew, that was a a very close call!
Jayne was truly bursting because we had been busy with a bondage only movie prior to filming this, and while retrained, her bladder grew very full. She hurried changed her clothes, put her hair up and the camera was switched on. She made no promises about how long she could make this, but she was assured that it was not the duration that mattered, only her state of desperation.
We didn't have anyone available to occupy the toilet, so we did some pickup shots afterwards where Jayne's feet, in different shoes, are seen emerging from the lavatory. Jayne also provides the voice of the woman inside the bathroom while she is waiting.

Download for $7.95


(Instant access)
4. WE HAVE TO GO BACK (12 minutes)
It's the final movie of the day. Rachael has been holding and holding for hours for earlier movies (Holding Hostesses and Holding Contest 6).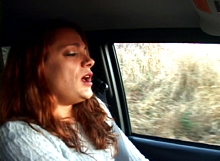 Her body is extremely hydrated and her bladder muscles are tired. The desire to pee assails her very suddenly, and we make plans to film something on location. We start off to film one last scenario on the road, but just a few minutes out, Rachael is completely overwhelmed by her desperation and asks to turn back. Rather than have her drive is such a serious state, we agree to call it off, but the camera keeps running.
The return journey is filled with panic as she tries not to wet herself on the car seat. She makes it, just, but can't get into the house in time to use the bathroom. She stands on the doorstep and pees for almost a minute, soaking her jeans and putting paid to that final scenario. Oh well, we'll have to make do with watching her "behind the scenes" extreme desperation attempt.
Rachael really couldn't hold on long enough to get very far from the house. Finding suitable spots to pull over and pee on the roadside is very difficult around out location, despite its rural nature. Seeing that she was really in trouble, it did not seem wise to make her drive and risk causing an accident. The aborted trip was far from wasted though, since Rachael's struggle to last until she could hop from the vehicle was intense. When she lost it at the front door, she released a huge flood. The girl truly was about to burst!

Download for $7.95


(Instant access)