This set is presented in both windows media video (WMV) and MP4 formats. The MP4 files are created from the native video format generated by iMovie and are of the same quality (resolution and bit rate) as the MWV files, perhaps slightly better. MP4 files play on a Macintosh without the need to convert using Flip4Mac, and they may be loaded into iTunes and hence your iPod where they play very nicely. MP4 files will also play on a PC using Real Player as well as a host of other video-playing software packages. Heck, they may even play in something as dubious as Windows Media Player :-)


1. Holding Contest 9
In Holding Contest 7, Carissa and Rachael were the two finalists, so it seemed only right to bring them back together for another holding contest,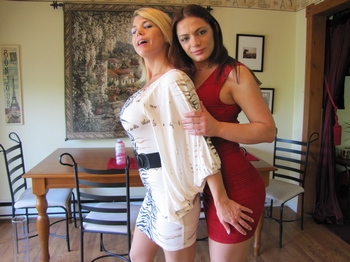 just the two of them this time. On this occasion, they got to empty their bladders before starting, and both women consumed the same amount of liquid (at least until things were well advanced). Carissa becomes visibly uncomfortable in less than an hour and is clearly in trouble. Rachael is squirming too, but she seems more in control. As the minutes creep by, Carissa's discomfort becomes rapidly more obvious; her expressions speak volumes as she realizes she will not be able to hold out as long as she did in her previous contest. For some reason, the 60 fluid ounces of liquid she has consumed have passed right through her and her bladder is all but bursting. Will her competitive nature force her to keep fighting to hold it rather than let Rachael win?

Additional comments: The film is not continuous but shows the girls using the toilet at the start, followed by several sequences where they talk about desperation as they drink liquid. They get through more than 60 fluid ounces each, and that's a lot! Filming is continuous from the time they start to struggle to hold on. Two cameras are used to ensure overlap so there is no break in this desperation sequence. If anyone wants to know the results of the contest before watching it, go to the description page for this set, and thence to the images page. Part way down is a link to the spoilers page.
Download WMV 59-minute version for $16.95



(Instant Access)

Download MP4 59-minute version for $16.95



(Instant Access)

Download WMV 36-minute version for $14.95



(Instant Access)

Download MP4 36-minute version for $14.95



(Instant Access)



2. Kept Waiting (11 minutes 39 seconds)
Carissa is laying on her bed looking very sexy for her boyfriend who should be home soon. However, she badly needs to pee.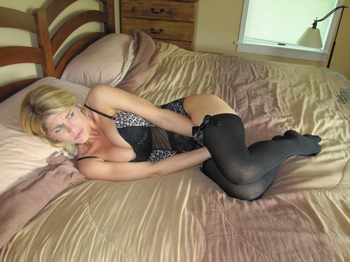 She puts off going because she knows her boyfriend likes to watch her squirm as she holds it. The urgency of her situation overwhelms her before he arrives home and Carissa jumps up, intending to go to the bathroom. As she opens the door, she jumps back in alarm and almost wets herself; a woman is standing in the doorway, weapon in hand. The woman, Rachael, orders Carissa to get back on the bed and stay put. Carissa obeys but she is becoming more and more frantic to empty her bursting bladder. She pleads with Rachael to let her go but time and again the woman refuses. When it becomes clear that Carissa really will wet the bed if she is kept waiting any longer, Rachael finally agrees to let her go, and a mad dash for the bathroom ensues.

Additional comments: Rachael enjoyed torturing Carissa far too much. It clearly brings out the masochistic side of her nature :-) This was also an excuse to put Carissa in sexy lingerie and watch her squirm.
Download WMV version for $7.95


(Instant Access)

Download MP4 version for $7.95


(Instant Access)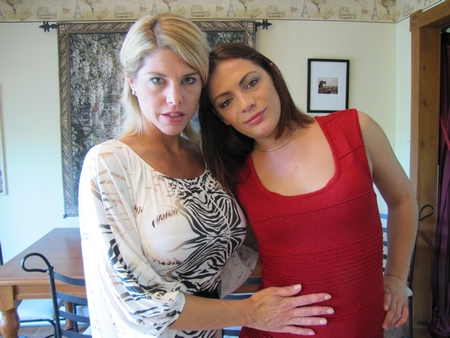 Carissa & Rachael
Holding Contest 9
Kept Waiting
Download WMV 70-minute set for $20.95



(Instant Access)

Download MP4 70-minute set for $20.95



(Instant Access)

Download WMV 48-minute set for $18.95



(Instant Access)

Download MP4 48-minute set for $18.95



(Instant Access)
HOME